Date: October 17, 2020
Location: Basque Country
Type of action: Demonstration

Basque Country: freedom for all to cross all bridges.
In the Basque Country the sisters are already beginning another mobilization process. It begun on October 17, at the closing of out 5th International Action, on the border between the Basque towns of Irun (Spanish state) and Hendaia (French state), with a press conference and a collective action denouncing borders, transnationals and migration policies.
The mobilization is called "Zubi guztien gainetik! Mugarik ez! Trasnazionalik ez!" (Over all the bridges! No to the borders! No to the transnationals!) and will end on March 6. The symbol are the bridges.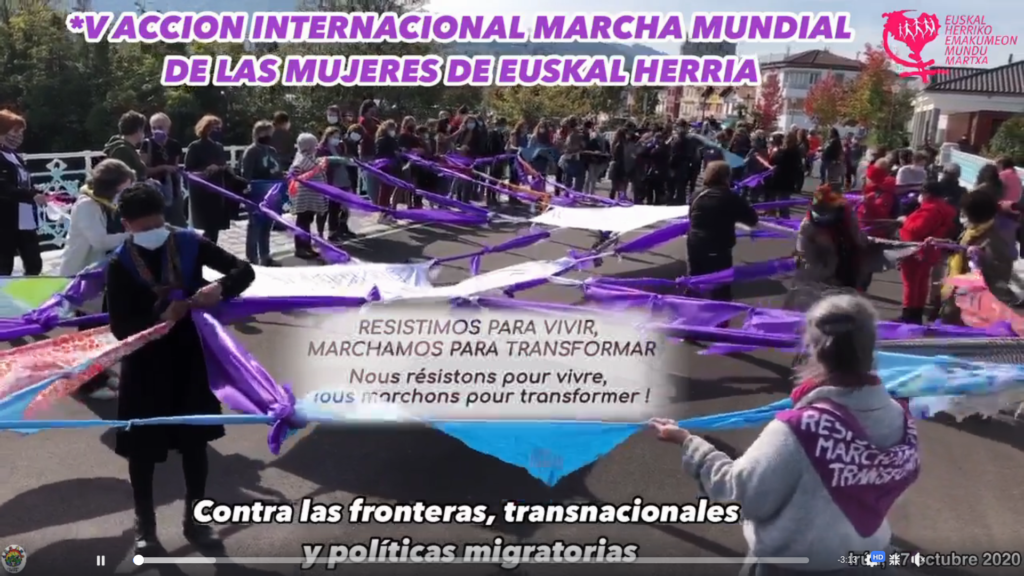 "We have understood that bridges have not had and do not have the same meaning for all migrants because those that once served to connect us have become walls that do not facilitate the transit of people and that become scenarios where people are discriminated against, oppressed, excluded and even killed. We invite you to rethink migration from a decolonial perspective and explore all the cracks that will open up in its path. To question and denounce the functioning of transnationals, borders and migration policies as instruments of the racist, colonial, capitalist and hetero-patriarchal system. Likewise, to identify the privileges on which the well-being of Europe is based and to reflect on our role and responsibility in that logic", say the women.
"At the end of February we will take the processes or the conclusions and demands to the streets," they tell us. The March continues until we are all free!
We resist to live, we march to transform!
#marchaenaccion2020