Date: April 24, 2020
Location:
Type of action: Online action

Euskal Herria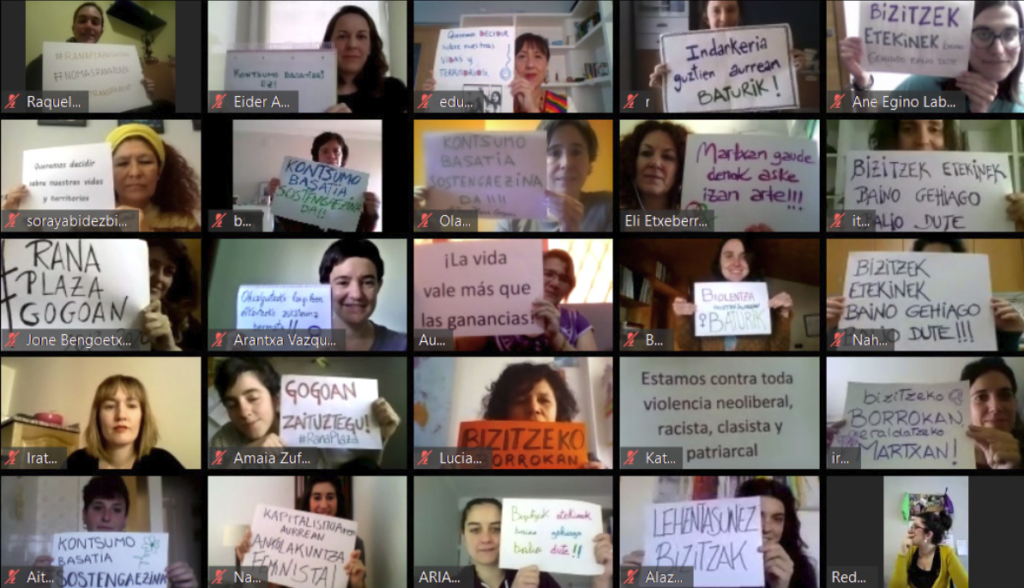 The women of the WMW in the Basque Country are mobilising online to collectively denounce the precariousness of the work of transnational garment companies and the neo-liberal, racist and patriarchal violence. #RanaPlazaGogoan — No mas Rana Plaza is one of the shared hashtags. The March is part of the Ropa Limpia platform, in defense of women garment workers in the global supply chain.
From the World March of Women of the Basque Country they speak:
Idoia Altuna, trade union delegate: "We denounce the feminization of precariousness in department stores and in the textile industry in general, which condemn women to work in terrible working conditions. We also call for awareness of the production model of the big clothing brands, which lower their prices at the expense of the quality of life of millions of women".
Cony Carranza Castro, Salvadoran, popular feminist educator, is part of the collective Women of the World Babel, Garaipen and the WMW in the Basque Country. She carries out part of her activism with other migrant women, mainly from Central America. She denounces the exploitation by transnational companies in the territories of Abya Yala which forces women to leave their places of living; and, also, the conditions of precariousness and exploitation experienced by women who carry out domestic and care work when they migrate. "To resist is to generate spaces of care and attention among us, and that is what many migrant women are doing.
Julia Marti, feminist activist and researcher at the Observatory of Multinationals in Latin America, denounces the power of transnationals and their influence around the world. Specifically, she talks about two Basque companies, BBVA and IBERDROLA, which exercise their economic, social, political and legal power and evade taxes, dispossess territories, make people's lives more precarious, finance arms companies, and are also involved in corruption cases. These forms of action are supported by a legal architecture that allows them to act with total impunity.
RanaPlazaGogoan #NoMasRanaPlaza #GoTransparent