Join the closing week!
From October 12-17, the World March of Women closes its 5th International Action, held this year as we celebrate 20 years of our movement. As an anti-capitalist and anti-racist women's movement, we do not cease to confront patriarchal, racist and colonial violence and the advances of conservatism.
Each day of the week we will give visibility to the activities in the five regions where the March is organized: Africa, Europe, Asia/South Pacific, Middle East/North Africa (MENA) and Americas. Find the March coordination in your country/territory to participate!
On Saturday 17th October, join us for the webcast of the Closing Activity, where sisters with WMW around the world will launch the Closing Declaration of the 5th Action and to reaffirm, collectively:
We resist to live, we march to transform!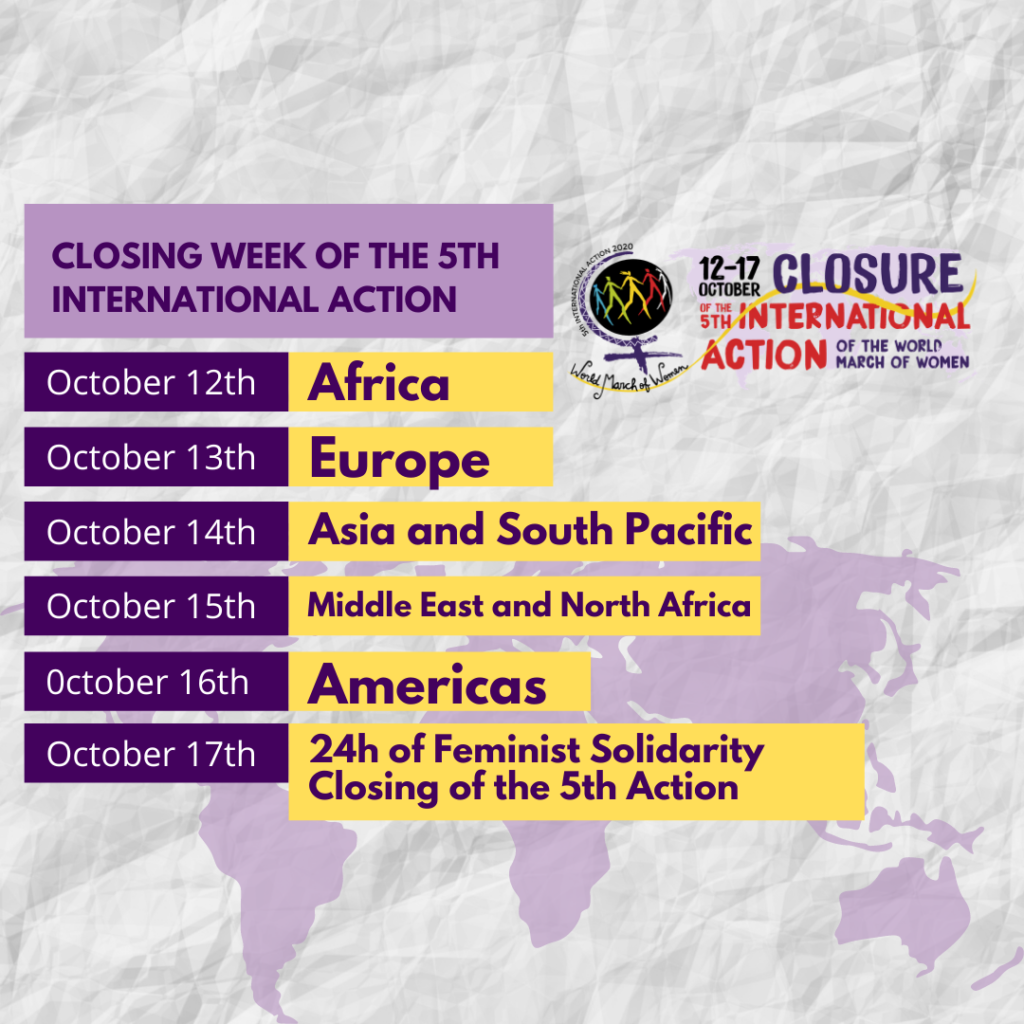 Share your actions!
There will be activities every day of the week in the regions/countries/territories where the March is organized. Let's give visibility to these actions! When publishing your activities, please cite the profiles of the March on social networks (see links below). Send information about it to info@marchemondiale.org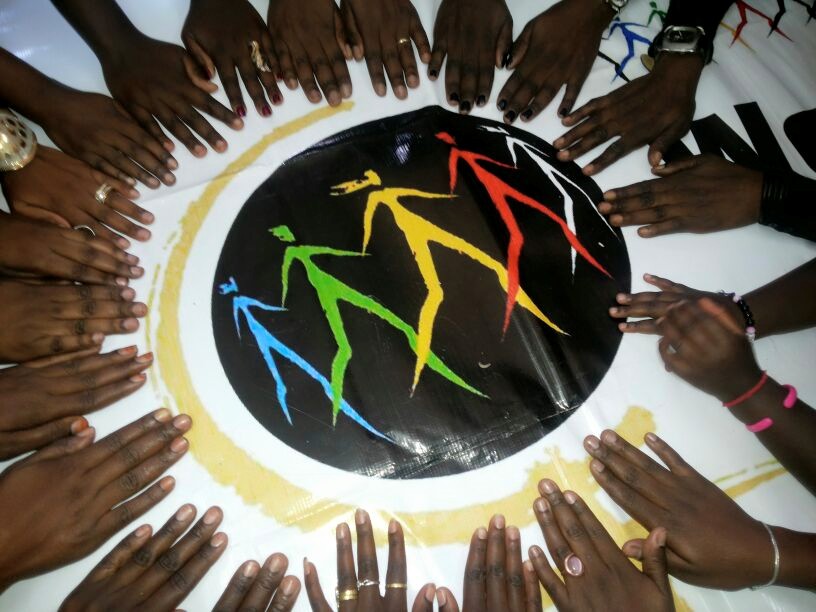 Listen to our closing statement!
On October 17 we will publish the closing statement of the 5th International Action, with the participation of sisters of the World March of Women from all over the world.
Today more than ever, in the face of the authoritarian and reactionary escalation of capital, we bring our struggles and concrete practices that transform, our new forms of political action conceived from collective experiences and the implementation of counter-hegemonic alternatives, from solidarity and popular internationalism.
We will make a live broadcast. Follow WMW's website and social media!
7h América Central / 9h Cuba, Venezuela / 10h América del Sur / 13h Costa de Marfil / 14h Congo / 15h Ginebra, Mozambique / 16h Kenia, Palestina, Siria, Turquía / 17h Irán / 20h Pakistán / 21h Filipinas / 24h New Caledonia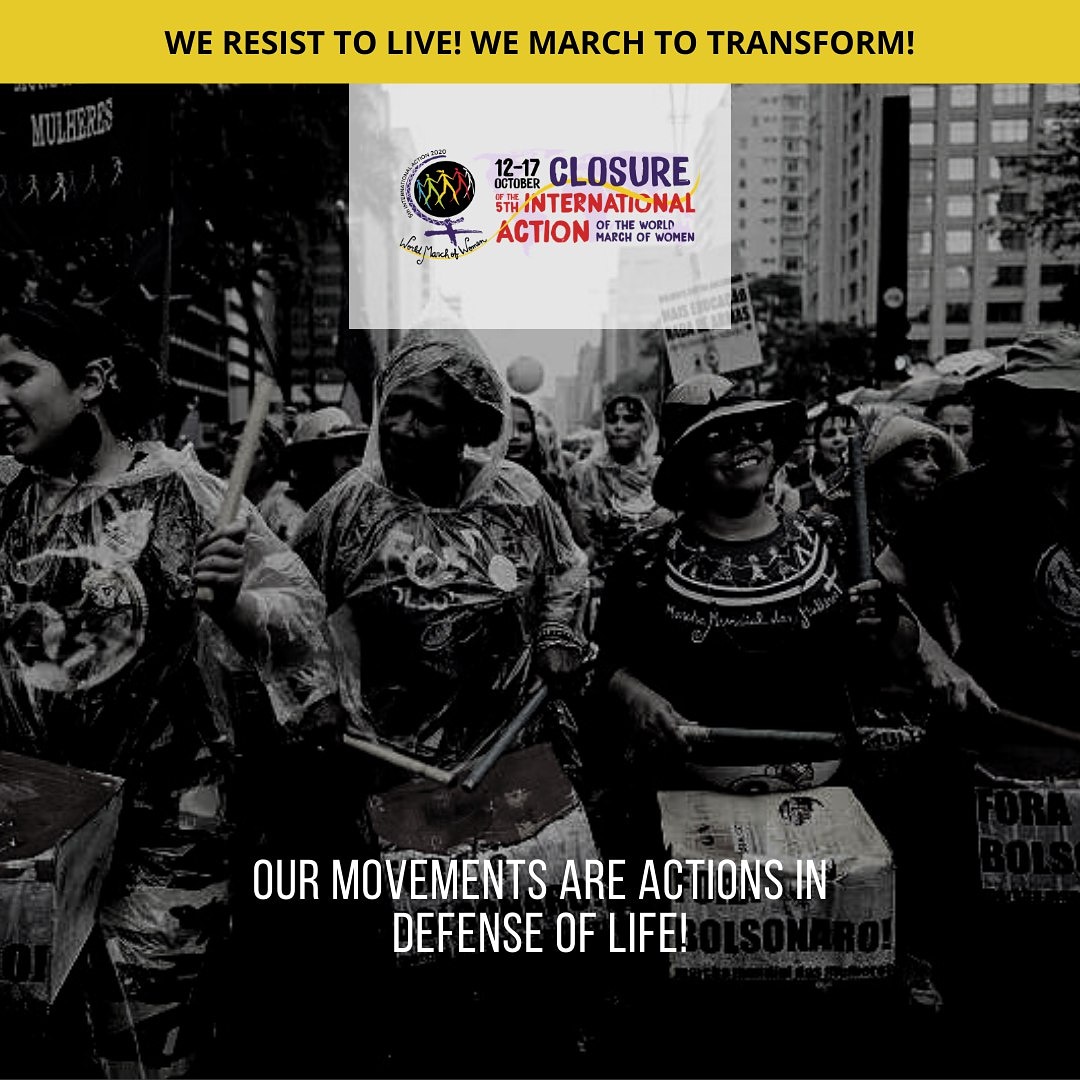 Follow the World March of Women!
We are in also Facebook, Twitter, Instagram and Youtube.