Many women, girls and LGBTIQA+ people are forced to flee their countries and seek refuge in Europe due to sexual and gender-based violence. In addition, these people are subjected to violence and abuse almost systematically along the migration route. On arrival in Europe, inadequate asylum procedures and inhumane treatment await them. The Feminist Asylum Coalition is running a petition all over the world to call on the European Commission, the European Parliament, the Council of Europe and the national governments in the Schengen region, as the European and world community, for the recognition of gender-based issues within asylum procedures.
-Submission of the Feminist Asylum Petition to the European Parliament
Breaking the silence and obtaining the application of international conventions for the protection of human rights – ratified by the majority of the Schengen states – is the objective of the petition for effective recognition of the asylum grounds specific to women, girls, and LGBT persons, submitted on May 18 to the Petitions Committee of the European Parliament. Supported by 261 organizations from 18 European countries and by a hundred personalities from the cultural, sports, and political world -including MEPs Diana Riba I Giner, Malin Björk, and Miguel Urbán Crespo- this petition with 39'063 signatures sounds the alarm.
At the heart of this press conference were three testimonies that you can watch on Vimeo:
(https://vimeo.com/user174647272?fbclid=IwAR1CnD77CZ9_7PFgM0FEgnFvJ1hUQVECKgly0oV5fIEXd6E9IcQcKZ8Ksfs).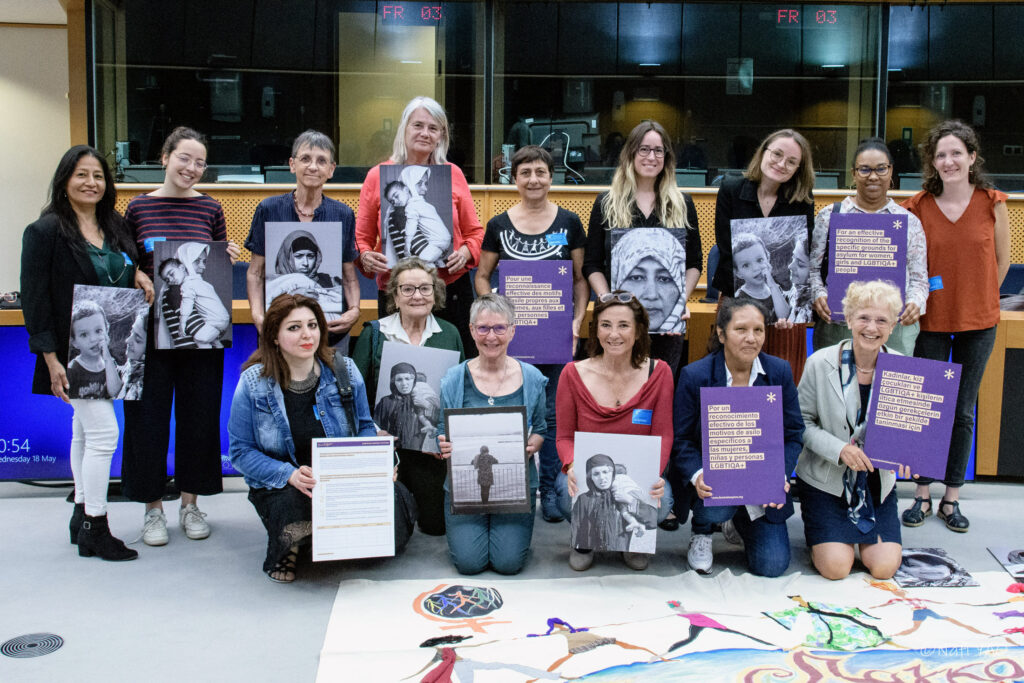 As the World March of Women, we are also a part of this campaign. We are approaching the end of this petition, but we haven't reached enough signatures yet. We ask you to expand feminist solidarity by spreading this petition in every field you are in. You can access all the materials (press releases, manifestos, images, etc.) in different languages.
Here is the link for the materials:
https://drive.google.com/drive/u/6/folders/1A4pO9zKMB2z9_n2CGDIzjQgCERKWsbs-
Access the website: https://feministasylum.org/