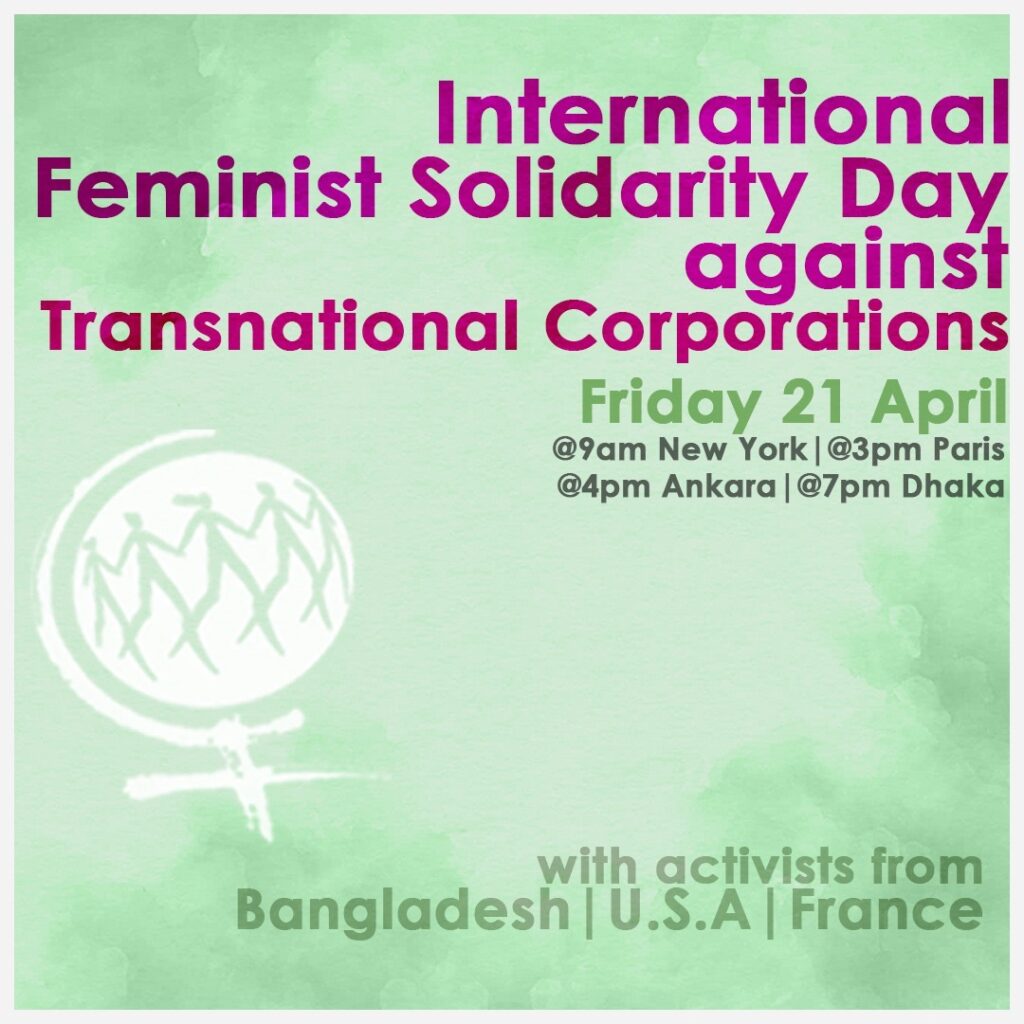 Ten years ago, as you all know, the Rana Plaza building in Bangladesh collapsed, killing hundreds of workers, primarily women, who worked in the textile industry in highly precarious conditions.
The date of April 24 as the International Feminist Solidarity Day against the power of Transnational Corporations arises from this sad episode. But it also brings to mind so many other cases that we have denounced throughout our history as the World March of Women.
The years go by, and the dynamics of neoliberal, racist, and patriarchal capitalism are updated, as well as its strategies and traps. When we denounce transnational corporations, we denounce a complex of corporations controlling our bodies and territories worldwide today. Be it in the clothing, food, energy, digital platforms, and the war and border industries. On the 24th of April, once again, we are saying no to frontiers and walls, which attack and condemn large contingents of people, expelling them from their lands and denying them the fundamental rights to housing, movement, work, education and food.
In this WMW international webinar, we want to debate and reflect on the violence caused by Transnational Corporations and point out our proposals and alternatives from our perspective of the feminist economy.
To commemorate this day, the World March of Women invites you to the International Webinar on the International Feminist Solidarity Day Against Transnational Corporations.
DATE: Our international webinar will be held on 21st of April.
TIMES:
Bangladesh Standard Time, 21 April 2023 Friday at 19:00 BST
Ankara, Turkey 21 April 2023 Friday at 16:00 TRT
Paris, France 21 April 2023 Friday at 15:00 CEST
New York, USA 21 April 2023 Friday at 09:00 EDT
Zürich, Switzerland 21 April 2023 Friday at 15:00 CEST
(Or to confirm your time zone use the link: https://time.is/compare)
Registration: https://bit.ly/3L5FYSm
Interpretation in Spanish, English and French.