The World March of Women is getting ready for its 13th International Meeting in Ankara, Turkey. A meeting during which the movement will also celebrate its 25th anniversary.
The 13th International Meeting (IM) of the WMW will gather feminist organizers from all around the world, from the 6th till the 12th of October, under the slogan "World March of Women: Feminist Strength to Transform the World!".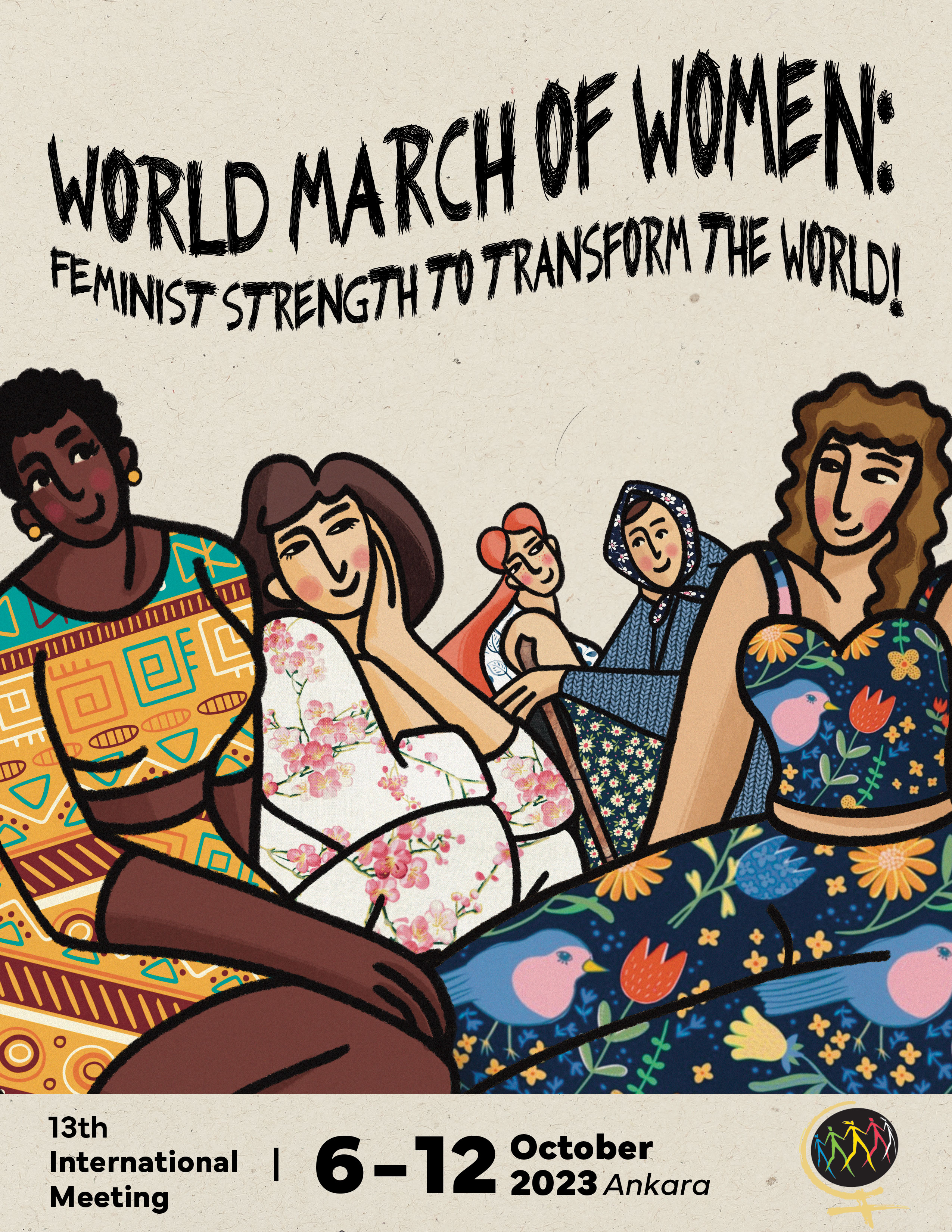 We are pleased to start the registration process for our IM, the deadline of which is on the 1st of August. We call for all NCBs to be represented in the 13th International Meeting, a unique occasion for us to meet, share, construct our actions, and build sisterhood and feminist solidarity.
With the strength we draw from each other, we are celebrating our 25th anniversary, having accumulated experiences, knowledge, and reflections on feminist action, political training, grassroots feminism, alliances, and movement building.
Social movements have been brutally attacked everywhere because our decision is to end injustice in our societies. Women have worked relentlessly around the world to build the global alternatives to end exploitation, change existing dynamics of power and break the systems of oppression; over these 25 years, we have defended our bodies and territories and framed our feminist alternatives to put the sustainability of life at the center. We trust that our diversity, collective feminist action, history, and memory are building the strength we need to be true to our commitment to bring about real transformation.
Remember part of the history of the March with a video version of the photo gallery "Living memory: the World March of Women International Meetings", organized by the Capire portal in the 2021 IM.
The International Meetings, attended by National Coordinating Body (NCB) delegations, function as a general assembly and are the highest decision-making structure of the World March of Women. It is at this meeting that we share our struggles and build a common analysis, to strengthen our movement and draw the framework of our actions. During this upcoming IM, we will decide the context and forms of the 6th International Action in 2025, and organize diverse political, cultural and artistic public events in parallel.
For more information, keep following our social media channels.
For NCBs who are in doubt and need clarification, please contact us by email:
13thinternationalmeeting@marchemondiale.org
Instagram: @worldmarchofwomen
Facebook: World March of Women
Twitter: @WorldMarchWomen
Youtube: @WorldMarchofWomen
You can find the report of the 12th International Meeting in three languages via this link:
https://drive.google.com/drive/folders/1RUC5lZC5_WHij7Bth-7uttBRO3rGZ1MM?usp=share_link
You can download our poster of the 13th international meeting in three languages via this link;
https://drive.google.com/drive/folders/1hKl9V3d7Tpph2wYu9Tqc_GVZwcOzBAwR?usp=sharing