Calls for action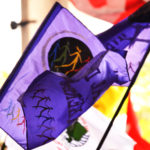 October 14, 2019 | Admin
Every 5 years, an international action of the World March of Women brings us together and mobilises us, connecting our local organisational processes and struggles to the international strength of feminism in movement. Our international actions are moments for constructing and expressing our political syntheses articulated at the local, regional and international level, which present ...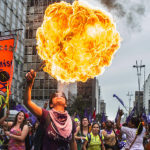 July 30, 2019 | Admin
"Resistance and movement building: confronting neoliberalism from feminist economics and common goods" was the topic of the international seminar organized by the World March of Women (WMW) on July 17-19 in São Paulo. The encounter brought together close to 30 feminist militants from more than 15 countries in the Americas, Europe, Africa, Asia, and the Middle East. In this text we are ...
Other ways to get involved
If you want to participate, contact the NCB on your territory. You can find a full list of NCBs in the section "Who We Are".
If there is no NCB where you live, then contact the representative(s) of your region.

Sign up for our newsletter and receive information on the World March of Women.
Some regional coordinations also send out newsletters. Contact the regional representatives to subscribe or for more information.