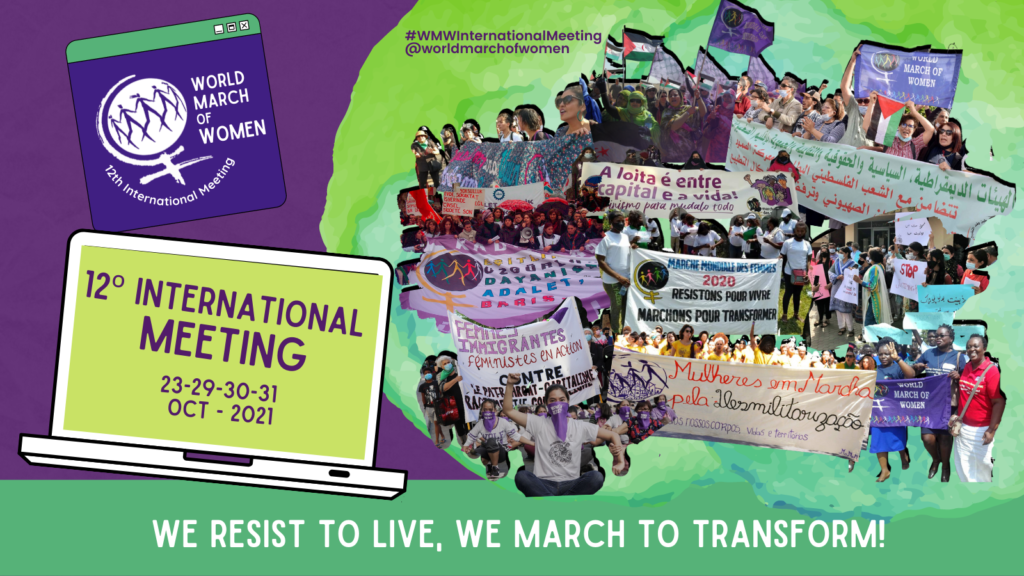 Useful links or documents for delegates during the 12th International Meeting of the World March of Women:
AGENDA OF THE MEETING
ELECTION OF THE INTERNATIONAL SECRETARIAT OF THE WMW
CALL FOR APPLICATIONS
CONTEXT DOCUMENT
This is a partial synthesis of the World March of Women's views on the international context, drafted as an input for the preparations for its upcoming International Meeting, to be held October 29-30-31, 2021. More
detailed regional aspects will be added later, based on the preparation processes conducted in each region.
WMW Constitution
Regional Meetings Reports
Africa (portuguese, english, french)
Américas (english and spanishl)
International Secretariat Report
Financial Statement 2019 -2021
WMW International Communication report from Brazil
Graphic materials of the International Meeting for the Communications of the NCBs
Capire Report to the 12th International Meeting
The history of the Meetings can be read and seen in the gallery of photos and stories published in Capire.