The World March of Women is excited to release our schedule of public events happening this weekend in Ankara, Turkey as a part of our 13th International Meeting. We invite and welcome all sisters to join us in feminist solidarity from October 6-8, 2023 for panel discussions, demonstrations, performances, and more!
On Friday, October 6, join us from 14:00-18:00 at the Belediye-İş Hall (union hall) for a panel discussion titled "From Bahriye Üçok til Today: Women's Struggle Against Religious Fundamentalism" featuring 4 international feminist speakers. During this event, Şenal Sarıhan from Türkiye, Bushra Khaliq from Pakistan, Cherifa Kheddar from Algeria, and Nana Aïcha Cissé from Mali will discuss diverse methods of feminist struggle against religious fundamentalism in national and international contexts.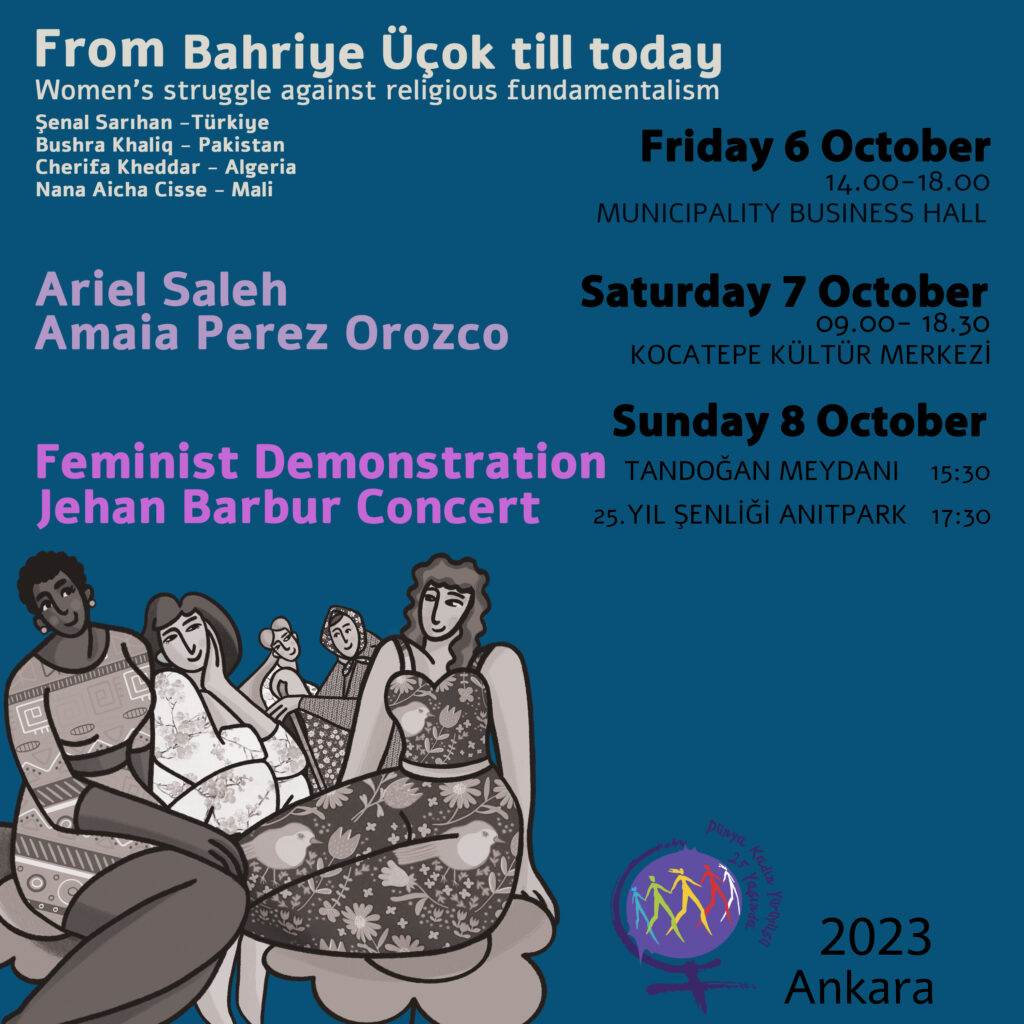 On Saturday, October 7, join us from 9:00-18:30 at Kocatepe Kültür Merkezi for our 13th International Meeting Opening Ceremony. This event will include speeches and talks from many internationally acclaimed feminist thinkers and organizers, including Australian sociologist and activist Ariel Salleh, Spanish feminist economist Amaia Pérez Orozco, and Turkish feminist writer Emel Memiş. We will also have discussions and presentations featuring IM delegates and representatives from allied organizations from all over the world, including Emilia Castro (Canada), Nana Aïcha Cissé (Mali), Jean Enriquez (Philippines), Sandra Moran (IFOS), Helena Zelic (Capiremov.org), Sonia Vidal (LVC), Cecília José Quitombe (Angola), Flormar Workers (Turkey), Hanae Takahashi (Japan), Ana Maria Suarez-Franco (Colombia, FIAN), and Nezahat Doğan Demiray.
On Sunday, October 8, join us to march in feminist resistance and solidarity for our World March of Women demonstration, beginning at 15:30 at Tandoğan Meydanı. After, we will celebrate our organization's 25-year anniversary with a concert featuring a local women's band, Fındıklı Women's Choir, and beloved Turkish singer-songwriter Jehan Barbur at 17:30 in Anıtpark.
We cannot wait to welcome everyone to these fantastic events to celebrate the beginning of our 13th International Meeting in Ankara, and we hope to see you there!