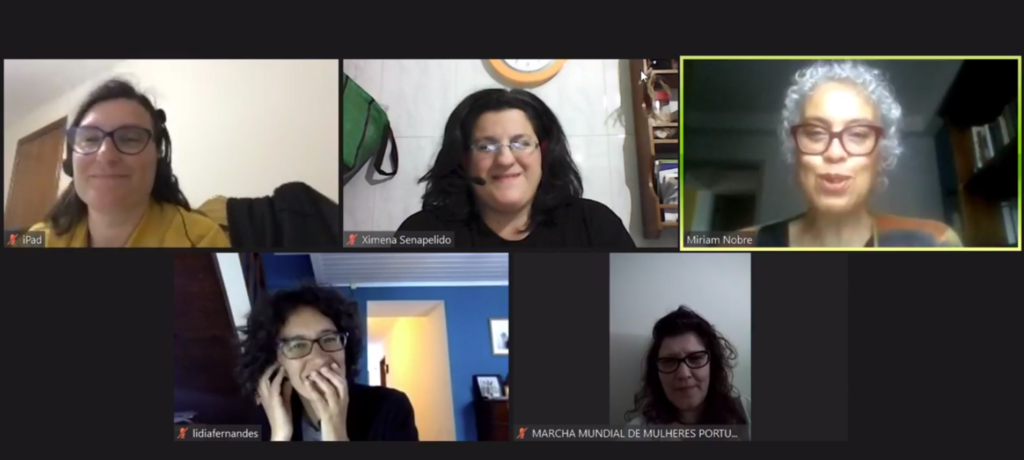 On May 15, 2020, women from different countries and continents, but who speak similar languages – Galician and Portuguese – met to discuss food sovereignty. Lídia Fernandes, from Portugal; María Ferreiro, from Galicia; and Miriam Nobre, from Brazil, talked for almost two hours about something that all of us who participate in the World March of Women have in common, in many languages: the defense of food sovereignty and agroecology. March coordinators in Portugal and Galicia organized the conversation to contribute to our work of weaving networks and talking about the role of women and feminism in the construction of real and transformative alternatives.
At this moment, comrades from countries on all continents tell us how the pandemic has worsened and made capitalism violence against life even more explicit, starting with one of the most fundamental rights: access to food. Hunger threatens millions of people who have lost their jobs, as well as workers from informal sectors, who are prevented from carrying out their activities due to measures of social isolation, quarantines and lock downs. Local markets where many women farmers sell their products have been closed. The borders have also been closed. Grains, vegetables, and fruits are scarce and their prices are rising. And the perspective is that, with the economic crisis deepening around the world, more and more people have difficulty accessing food.
María spoke about the March the principles, such as the fight for women's autonomy, for common goods, for community organization and also for public services. "One of the central axes is violence against women, both against our bodies and against our territories. This violence often consist of usurping territories and therefore the history and identity of women with their land", she said. She told how the concept of food sovereignty has been developed since 1996, in the Alternative Forum to the Summit of the Food and Agriculture Organization of the United Nations (FAO), organized by La Via Campesina, with strong contribution of women. "I found Maria's point of view interesting, because I organized my speech thinking a lot about how we, as feminists, in alliance with the peasant and environmental movement, present our vision. And she organized how feminist and peasant women influenced the feminist movement, bring up issues that we left aside because alienation from our bodies also involves alienation from what we eat. And how important this alliance process is for us to build our movement", said Miriam.
A feminist history
The principle of food sovereignty is the right of peoples to define their own sustainable policies and strategies for food production, distribution and consumption, which guarantee the right to food for the entire population, based on family and community production, respecting their own cultures and the diversity of peasant modes of production, marketing, management; as well as recognizing the fundamental role of women in this process. Building food sovereignty is a form of resistance because it implies the possibility of organizing life in a different way, from the most basic question – what and how we eat – to supporting small producers, distributing housework so that women are not the only ones responsible, and building complementary exchange policies between countries.
This is our alternative to the industrial agriculture promoted by the big international corporations, which sell transgenic seeds, dependent on pesticides, and contribute to create viruses that cause epidemics and pandemics. Many studies show the interrelation between the industrial agro-food system and the emergence of new viruses that pass from animals to humans. Industrial agriculture deforests, substitute forests by monocultures, displaces populations of humans and animals. It produces transgenic grains to feed animals, uses antibiotics to make them grow faster and uses vaccines that change their immune system. It creates animals in a degrading situation and very tight spaces, which facilitate diseases transmission. In addition, it contributes to making people more vulnerable to disease through the consumption of ultra-processed food and food containing agrochemicals. None of this happens in peasant and agroecological agriculture.
Women feed the world. María brought data from the FAO showing that between 70% and 75% of the food we eat is produced by peasant agriculture. Much of this production is carried out by women, who have little land and are often expelled from their territories. Women play this role both with their work and also their knowledge. "In addition to peasants direct economic contribution, there is also all the knowledge involved in this production, because women are traditionally responsible for selection, ensuring diversity, exchange and conservation of seeds. If women hadn't kept up this work for centuries, maybe we wouldn't be able to do agroecology like we do today," says Miriam.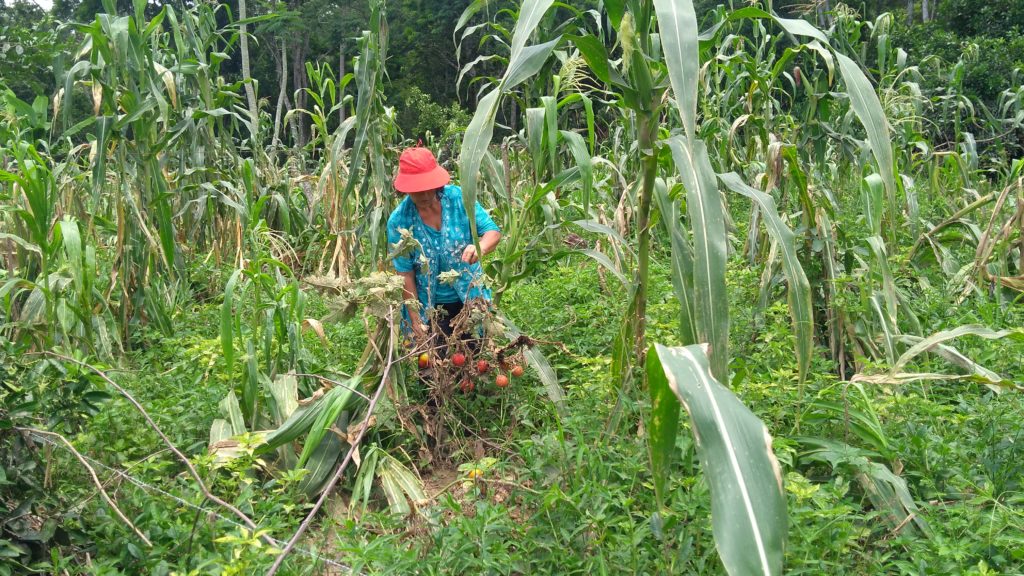 Cities and fields
One of the industrial agriculture model's weaknesses, evidenced by the pandemic, is the dependence on mega business distribution chains. Lídia observed that the food distribution activity is the basis of one of the biggest fortunes in Portugal, that of Jerónimo Martins family. For tax reasons, the company is based in the Netherlands. However, company communication discloses that it invests in national products and bets on small producers – the so-called "green makeup". Lídia told us that, in Portugal, the policies carried out since the 1990s have stimulated monoculture and the depopulation of rural areas. Today, this country depends on imports to feed itself. Moreover, its monocultures of olive trees for producing olive oil, for example, instead of creating local jobs, exploit the work of temporary immigrants, in precarious conditions and with low wages.
This exodus of women to the cities, observed María, is not always a choice. It happens with varying degrees of violence, from the expulsion of women and the appropriation of their few lands to the capitalist idea that the countryside "goes backward". The work of farmer women – the labregas, as they say in Galicia – made invisible contributes to this scenario. Countryside backwardness, however, is not a reality: "We are maintaining the communities and our sovereignty, as producers. We want to end the invisibility that is imposed on us because we are country women, because we are producers, because we care for and love the land, because we are women pastors, indigenous women, women of the sea. So, to reach food sovereignty, we must weave alliances with women consumers, who are mostly in urban areas and who need healthy, quality food. We consider food as a right, a food that respects the planet and all living beings", María said.
Food sovereignty is also a form of resistance to conservatism that seeks to lock women down in their homes and prevent them from becoming autonomous. And solidarity is also a form of resistance. At this time of pandemic, civil society has organized itself to share food baskets. Unlike the discourse of "charity", which leaves people vulnerable to reactionary and paternalistic visions, feminist solidarity shows the power of women to organize and generate change.
Eating is solidarity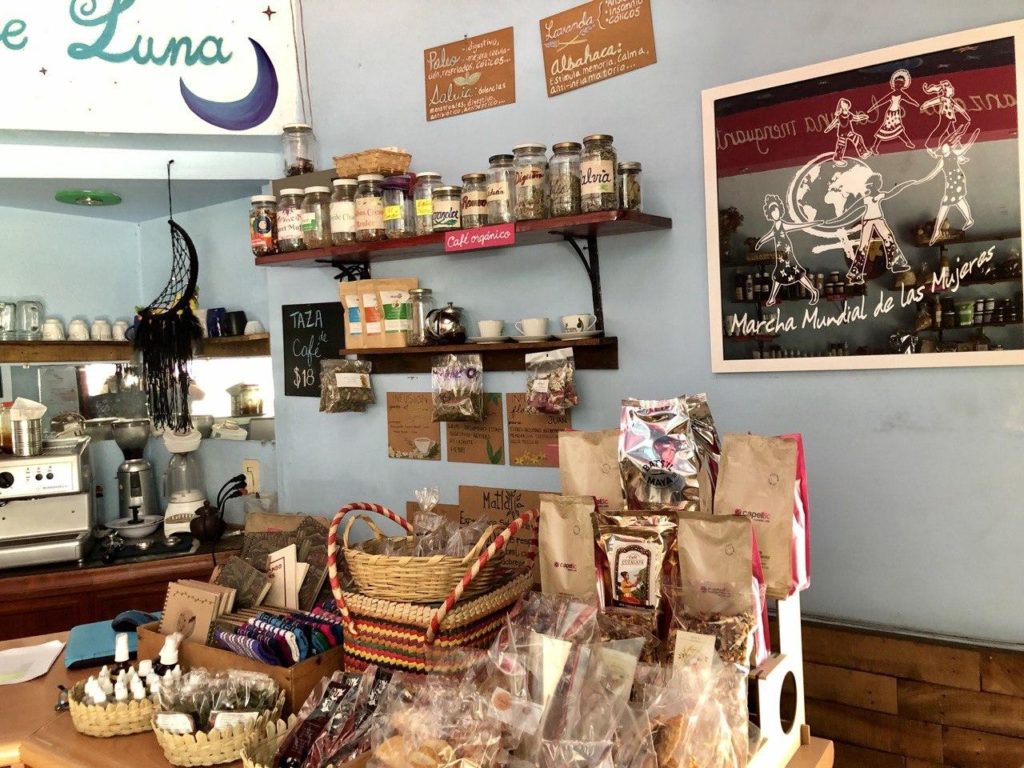 In Jalisco, Mexico, the alternative market Flor de Luna, a solidarity economy project created by Ecofeminist Benita Galeana School A.C, is one of the places where this resistance happens. Founded five years ago by women organized in a network, the market sells fresh products free of pesticides. "It is the systematization of a long process of experiences, knowledge and collective learning of groups, organizations and cooperatives of women in search of alternatives to improve our quality of life, that of our families, of our community, relating care to the defense of nature" says the text sent to us by the comrades from Mexico. Since April, the market holds the Wednesday of Fresh [products], to prevent the total or partial closure of the market and ensure the income for producers. See more here.
We resist to live, we march to transform!
Liaison Newsletter – July 2020