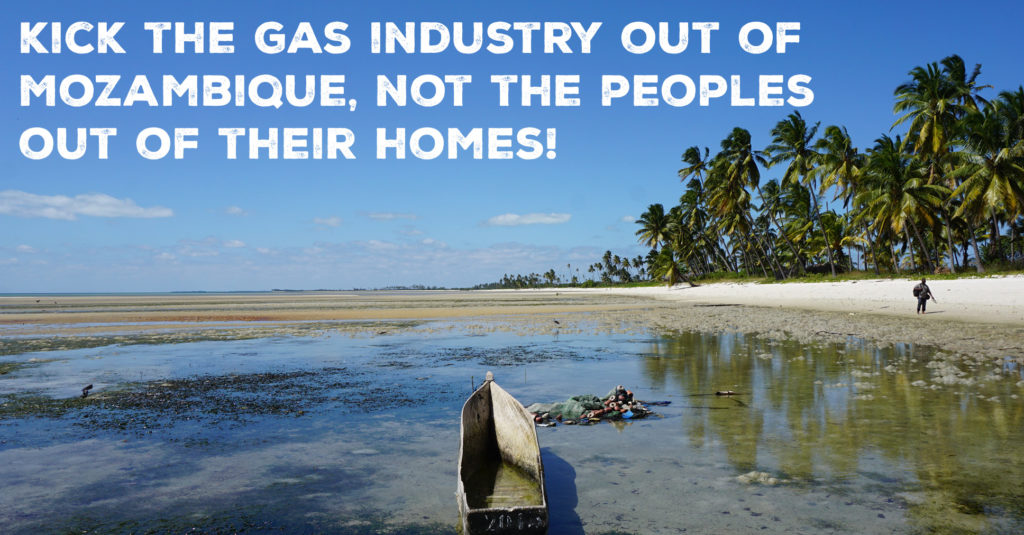 In June, the World March of Women signed a letter demanding transnational corporations to stop the ravaging of Cabo Delgado, the northernmost province of Mozambique. The gas industry is causing devastation in Cabo Delgado, with communities starving and landless, even before any gas has been extracted. The letter has a broad description of what is happening there.
"The transnational fossil fuel corporations, contractors, private financiers, risk consultancies along with the government of Mozambique are turning the wheels of this industry. All are complicit. Transnational fossil fuel corporations boast of the 'development' and 'upliftment' the gas industry will bring to Mozambique. They talk about the 150 trillion cubic feet of gas that has been discovered and how they are looking for more. But the promises they have made to Cabo Delgado's communities – providing employment for thousands, land compensation to continue farming and maintain livelihoods, better education and healthcare for the peoples through income the government receive – these promises have not been fulfilled and the impacts will far outstrip the benefits, present and future.
"Instead the province is sinking into ruin and the presence of transnational corporations is only detrimental. Foreign investment is not imperative for developing countries like Mozambique. History has shown that foreign fossil fuels investment does little to help poor countries develop, it is more often detrimental. Mozambique has hosted an international extractive industry for years, yet only one third of the country has access to electricity. In 2018 Mozambique ranked 180 out of 189 on the Human Development Index (HDI)."
The letter also describes the brutal attacks by insurgents and extremists that have been devastating entire communities in Cabo Delgado, with no end in sight, and the displacement of over 100,000 people because of the conflict. Extremism is being fueled in part by young peoples' anger at the mass unemployment, land grabbing, loss of livelihoods and oppression. And the government's military forces, demanded by the transnational corporations, protect the gas industry, not the peoples. Many journalists working in Cabo Delgado, especially those in the gas region, have been arrested or de-tained without charge over the last two years, some for months. Journalist Ibrahimo Abu Mbaruco, has been missing since April 7. Mr Selemane, of Palma, was kidnapped on 20 May 2020, 24 hours after speaking out against the mis-treatment and heavy-handed nature of the military in the area.
The demands for the rights of people and rules for business were sent to the transnational corporations with activities in Cabo Delgado. Also to the government of Mozambique, that supports those corporations and financial agencies: Total, ExxonMobil, Shell, Eni, Galp, HSBC, Standard Bank, United States International Development Finance Corporation.
The World March of Women stands in solidarity with the people and against the power and impunity of transnational corporations, agents of human rights violations, displacement of people from their territories, spoliation of natural resources and destruction of the environment.
We resist to live, we march to transform!