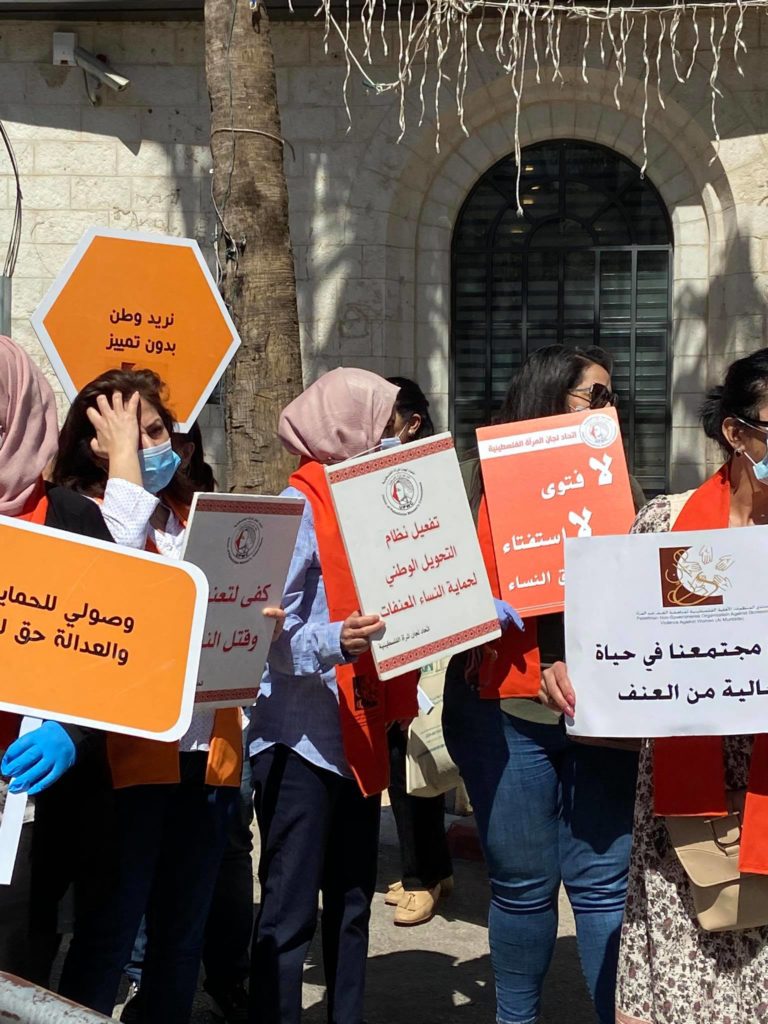 Palestinian women face many challenges in their daily lives, these challenges are represented as obstacles put forward by colonization, the annexation plans, and the COVID-19 pandemic.
The Israeli occupation continues its colonial policies aiming to abolish the Palestinian cause through a series of policies including ethnic cleansing plans, specifically in Jerusalem, daily invasion and arrests, military violations against Palestinians, and the ongoing siege on the Gaza Strip, house demolitions, land and water resources confiscation, diminishing freedom in every aspect of Palestinian lives, and stifling Palestinian organizations and associations to stop their action.
Arrests, night invasions, and deliberate executions
More than 4700 Palestinians are currently prisoners in Israeli jails, over 360 of whom are facing illegal administrative detention. 42 women are also prisoners, 3 of which are currently facing inhumane interrogations in the Russian Compound interrogation center in Jerusalem, 2 female prisoners have been in isolation at Al-Jalameh prison for over a month as of today, and 18 are mothers to underage children. In the duration of the COVID-19 pandemic, 2300 Palestinians were arrested, including children and women.
Over 700 Palestinian prisoners are classified as ill and in need of medical aid with conditions ranging from minor health issues to terminal and chronic illness, and are not provided adequate medical attention, resulting in many deaths inside prisons due to untreated health issues, the most recent one being the passing of the 75-year-old Sa'di Al-Gharabli as a result of untreated prostate cancer. News of the diagnosis of a Palestinian prisoner with COVID-19 have surfaced recently, and it is worth mentioning that said prisoner is also fighting cancer and has contacted the virus during a hospital visit. The news of COVID-19 reaching Palestinian prisoners is worrying as prisons are overcrowded, with no adequate cleaning materials or medical attention.
The Israeli military performs semi-daily night invasions in all West Bank areas that involve home invasions and arrests which usually terrorize families, especially children, who are present within houses as the invasions are carried out in a very violent and tense manner. In addition to clashes during these invasions where the military uses live and rubber-coated metal bullets as well as toxic tear gas, and sound bombs that usually end up wounding Palestinians in different degrees.
Deliberate field executions are also periodically carried out under the claim of violent action from Palestinians. This claim is proved false through looking at the executed Palestinians like the Autistic Jerusalemite Iyad Al-Hallaq who was shot dead on his way to school with his teacher under the false claim of him having a weapon in his possession. Another case is Ahmed Eriqat who was shot in his car at an Israeli checkpoint on his way to his sister's wedding after having a car accident that the military claimed was an attack in order to fatally shoot him.
Home demolitions and land confiscations
Home demolitions is a form of the systematic violations that the occupation practices against the Palestinian people. In the West Bank and Jerusalem, families are subjected to home demolitions which results in them facing homelessness and expulsion. During the COVID-19 pandemic, demolitions have almost doubled in number, resulting in the dislocation of many families, including children and women. Palestinians, especially Jerusalemites, are sometimes forced to tear their own houses down in order to avoid the extremely expensive costs of having the occupation demolish them. The demolitions cause disturbances to the families as they need to seek shelter which results in them either having to rent homes for large sums of money, or move back to extended family homes, or live in unsuitable shelters like tents or mobile homes, this is dangerous especially in a global pandemic as no adequate sanitary measures can be taken, which exposes these families, specifically children and the elderly, to contacting the virus. Women are most affected by this as they are the main care takers of children and family matters and are forced to face very difficult social and economic challenges.
The actions of land confiscation have also continued, especially as the suggested annexation plans started to come into action recently. These plans involve the confiscation of 30% of the West Bank areas, especially agricultural and natural resource-containing lands in the Jordan Valley which provide a large sum of the Palestinian agricultural produce and water sources. This in turn enhances the apartheid regime policies towards Palestinians, in turn representing ethnic cleansing and illegal sovereignty.
The Blockade on Gaza
The blockade on Gaza continues, making the lives of Palestinians in near impossible and hinders any possibility of normal life. Today, poverty rates in Gaza exceed 50% of the population, most of which are women and families headed by women. On the other hand, the occupation imposes control over water resources causing Gazans to consume polluted water as well as have a limited access to water in daily lives. The siege is leading to the increase in the number of fatalities in the Gaza Strip as health access and services are very limited and the ill have to seek treatment outside of the Gaza Strip, which requires special permits from the occupation that are not usually granted, meaning that Gazans are denied freedom of movement as well.
Covid-19 and the palestinian people
The COVID-19 pandemic illuminated the fact that the Israeli Occupation aims to exploit the current global state to impose more pressure on the Palestinian people through oppression and systematic negligence as well as discrimination against Palestinians, specifically in Jerusalem.
Jerusalem
Discrimination in Jerusalem was highlighted in multiple ways, such as the obstruction of health committee work, including the arrest of 3 workers during their work in sterilizing neighborhoods. While the occupation focused its efforts in combating the virus within its communities, it practiced its usual racial discrimination against Palestinians in Jerusalem, it deliberately delayed the opening of a center for COVID-19 testing in an Arab area, and depriving over 40,000 Palestinians of their health rights under the pretext of residing outside municipality regions. Arab hospitals are also unable to receive an adequate number of cases due to the lack of necessary medical equipment.
Refugee camps
Tens of thousands of Palestinians live in 17 refugee camps around the West Bank, in marginalized areas of high population density. Due to the underfunding of the United Nations Relief and Works Agency for Palestine Refugees in the Near East (UNRWA) and its diminishing abilities, as well as the economic deficit of the Palestinian government, the services and attention directed towards refugee camps are nearly non-existent. It is very difficult to practice social distancing and home-quarantine in camps, as there are not enough spaces within refugee camps due to the overcrowding of homes, causing a high rate of virus contacting. Palestinians in refugee camps also suffer from the highest rates of poverty and unemployment, especially during the pandemic, adding the financial burden to the state of the pandemic in the camps.
Palestinian workers
More than 50,000 employees in the private sector have lost their income during the pandemic. The economy has also faced a large setback and many small properties were shut down. The most affected were women, especially those who work in unofficial work sectors.
Women
Palestinian women, especially the feminist movement, challenge this situation through working towards strengthening communities and families, especially families led by women and women who work from home. In addition to aiming to limit the negative social, economic and psychosocial effects of the COVID-19 pandemic on the Palestinian society, specifically poor and working-class women.
The Palestinian people stands steadfast against all challenges and threats. Stands in solidarity with those who suffer from discrimination and colonization. We call for international solidarity against the Zionist colonial regime and policies, and the end of occupation. We reaffirm the significance of international feminist solidarity in the face of imperialism and neoliberalism.
Report from WMW Palestine
We resist to live, we march to transform!
Liaison Newsletter – July 2020