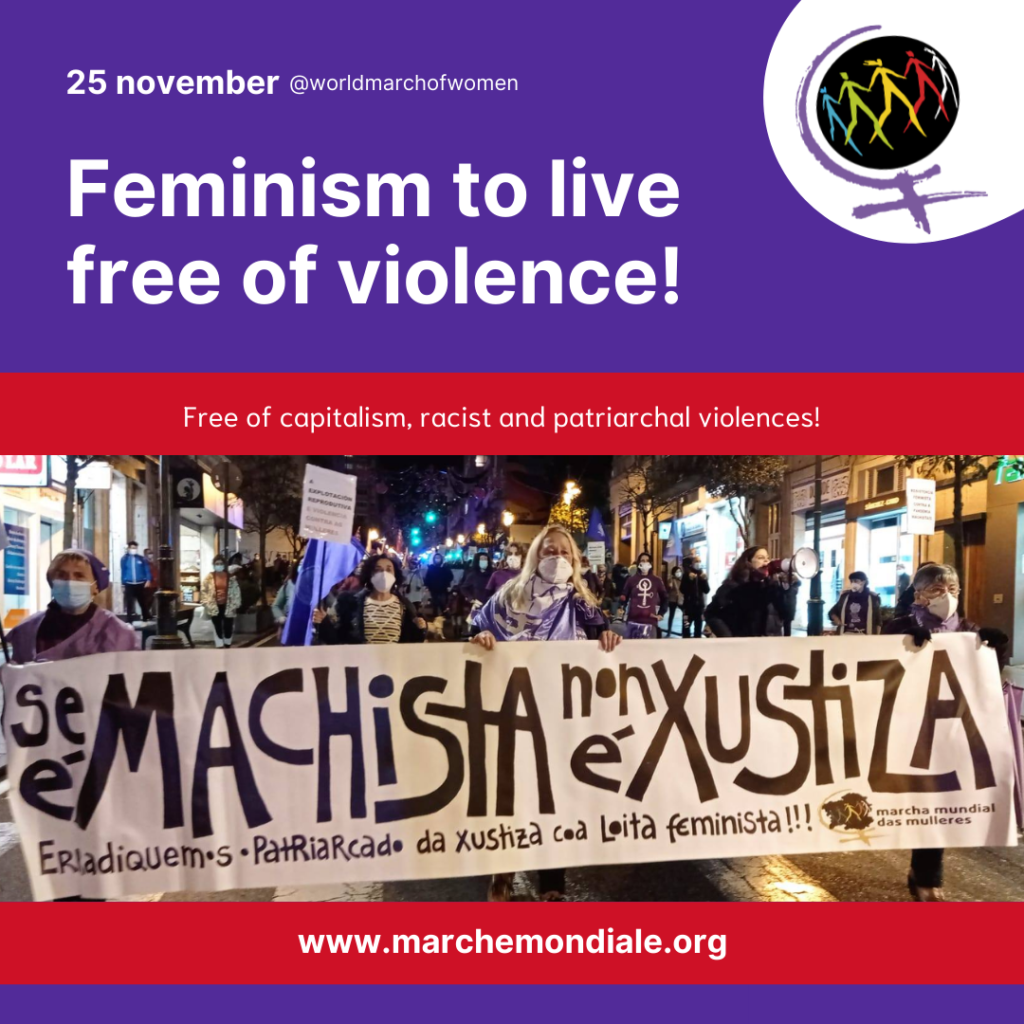 On November 18th, the World March of Women and the Capire portal, with the support of La Via Campesina and the WRM, held the webinar "Anti-systemic struggles to live free of violence." A week prior to International Day for the Elimination of Violence against Women, November 25th, this space for international reflection brought together women from several countries and organizations to discuss the causes of patriarchal violence, as well as to share experiences in fighting it.
The discussion was moderated by Ximena Gonzalez of WMW Galiza, who provided links between the words of the sisters invited to join the panel: Sophia Ngalapi, from Tanzania and a member of the WMW International Committee; Sonia Vidal, of La Via Campesina Galiza; Neelam Chaturvedi, of India's National Alliance of Women (NAWO) and the organization Sakhi Kendra; and Marié Crescence, from Cameroon, of the World Rainforest Movement (WRM).
Sophia Ngalapi shared the struggles of African women to end the violence that is normalized and affects women of all ages, such as sexual harassment, child marriage, and other violations that impact especially regions with little political and social stability. "We experience a situation in which, in many countries, women face abandonment, men leave their homes and women are left in charge the children." She also highlighted the problems related to climate change and the crises caused by the capitalist system. "Some areas have no water and women have to move to access it, walking long distances and struggling from this overexertion."
This situation was also highlighted by Neelan Chatuverdi, an activist from India who also emphasized our solidarity and joint efforts to cope at local and international levels. "We organize ourselves in the villages, all over the country, to be able to challenge all this violence together. Local actions must be connected to the global confrontation to stop the feminization of poverty and to put pressure on international organizations and decision-makers.
The right to common goods and the denunciation of several different crises, such as economic, social, climatic, and food crises, have been political struggles waged by women, as Sonia Vidal, from La Via Campesina Galiza, also pointed out. "Hunger has been on the rise, and we demand the right to food, we need public policies that reinforce food sovereignty. When there are more people dying from COVID, we know that there are even more people starving to death. Hunger has the stamp of capitalism—there is no shortage of food, but rather a profit system that is put before the right to food." This is why defending territories, ways of life, and agroecology against corporate power is fundamental for women and the peoples who stand up and resist.
Marié Crescence, from Cameroon, underscored the pursuit of alternative production models in face of threats. Not recognizing women's production and experiencing dispossession are ways of control by the system. "Through land grabbing, pollution, and plundering by transnationals, companies and capital privatize the water, devastate forests, and offer pesticide-riddled products. We demand our right and freedom to live and produce in our territories."
During the panel, the militants also emphasize the importance of actions in alliance with like-minded movements that also stand in anti-capitalist and anti-imperialist resistance to stop all forms of violence. As the commodification of life advances, it makes life increasingly precarious in which women remain the ones caring for it, including through imposed heterosexuality and the non-politicization of care.