Nalu Faria talks about the scenario in Brazil, the presidential elections and the "Out with Bolsonaro" movement
originally published on the Capire portal
This year will be decisive for women and for social movements in general in Brazil. A year of struggles, crucial for us to say no to neoliberalism, to authoritarianism, to denialism, and to develop and state what the country we want to live in will look like.
Every day and also during the elections that will take place in October, we have the task of removing the far right from power. The current political situation in Brazil has its origins in the 2016 coup against President Dilma Rousseff (PT) and her government. Soon after the coup, neoliberal austerity policies were resumed, and the policies of the previous government were dismantled. Projects that represented a regression were approved, such as Constitutional Amendment 95, which froze social spending for 20 years, and the labor-rights counter-reform.
Despite this scenario of ongoing ideological attacks against the left, Lula was the favorite candidate in the polls prior to the 2018 elections. In April of that year, Lula was arbitrarily arrested, in a lawfare[1] process that kept him in prison for 580 days.
In the course of this political dispute, the elites joined the campaign of far-right candidate Jair Bolsonaro. His election campaign was based on fake news, invoking conservative values in the name of family and religion, and associating communism with corruption. He did not attend public debates but spread his ideas with the aid of a digital network for sharing lies and fear, with many bots and also a lot of money.
Bolsonaro's government continued the process of dismantling public policies that serve the population. It intensified the liberalization of the economy at all levels, particularly regarding deforestation, mining and privatization. The genocidal character of his government was already visible in its racist and militaristic stance and was made even more evident during the COVID-19 pandemic, with a denialist approach, attacks on social isolation measures, and boycotting the purchase of vaccines.
The presidential election process that will take place in October this year could mean the defeat of Bolsonaro's far-right and neoliberal government. There is a concrete possibility of consolidating a strategic change in political direction at the governmental level.
Considering this dispute that is present today in our society, it is essential that we elect a government guided by another project for our country. A popular, feminist and anti-racist project, which, in order to be put into practice, needs to be permanently anchored in social struggles and organizations. Lula's candidacy under the Workers' Party has the support of this set of movements and parties that were part of a broad leftist front in the Out with Bolsonaro Campaign.
Social movements are mobilizing themselves to support Lula's election, with a widespread process of grassroots organization as a key element in the construction of this project. A deep break with neoliberalism is needed, connected to the recovery and construction of a democracy with broad popular participation. This is the only way we will be able to ensure the State will be transformed, to put into effect its public duties and guarantee the people's rights.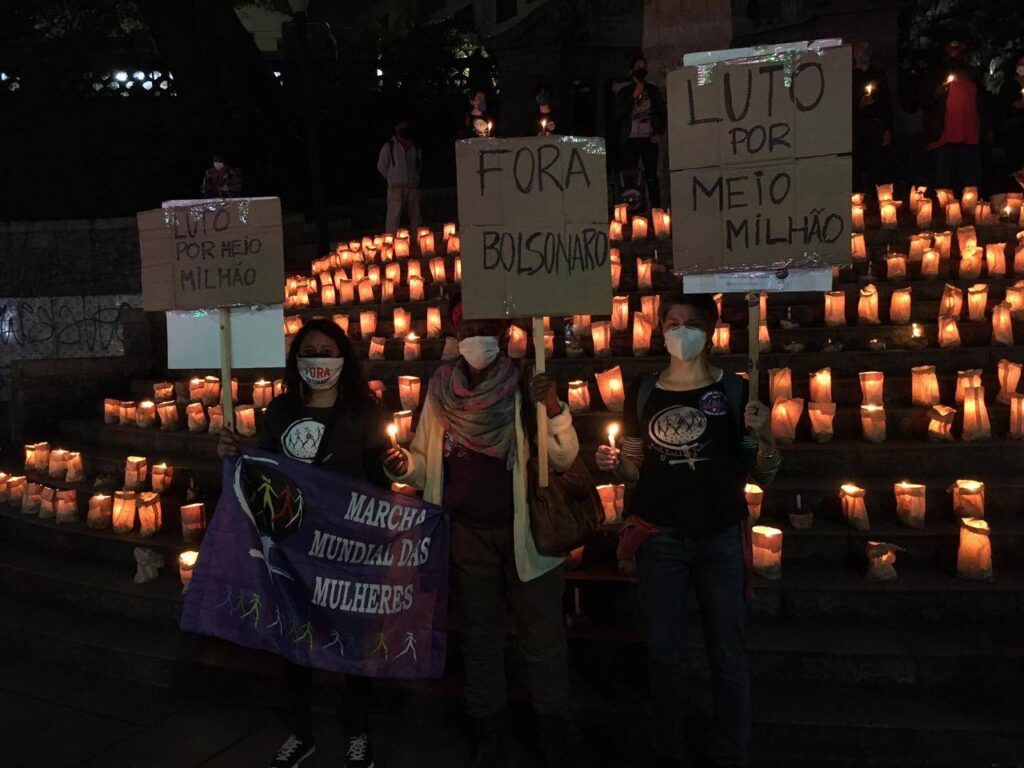 Women are at the forefront of resistance
While Lula was imprisoned, social movements and progressive parties vigorously maintained the campaign for his freedom, with mobilizations throughout the country and a permanent vigil in front of the place where he was being held. Women were very active in the struggle against the coup and also in the Free Lula campaign. Subsequently, this process was linked to the construction of a broad front that organizes the Out with Bolsonaro movement and the fight for emergency policies, vaccines and health care during the pandemic.
One of the remarkable facts about the 2018 election campaign was the participation of women. Demonstrations for "Not Him" were organized and women took a strong stand against Bolsonaro's candidacy. There were massive protests, organized and carried out by the feminist movement in all its diversity and expressions. With that, women rejected Bolsonaro's political project and exposed his retrograde, conservative character as an enemy of the working class, women and black, indigenous and LGBTQIA+ peoples.
This stance was expressed in how women voted in the election – according to the agency Gênero e Número, based on electoral polls, 52% of women declared their vote for Fernando Haddad (PT), while 59% of men were in favor of Bolsonaro. They also found this in their assessment during the Bolsonaro government, where rejection has been the majority – 67% disapprove of the president's management, according to a survey by PoderData published in January of 2022.
This rejection is part of a broader process that is now acknowledged: women play the main roles in resistance struggles and in the construction of responses to the social current model – which we define as a model based on the capital-life conflict.
Women are at the forefront of struggles against transnational corporations, war, neoliberal policies, police violence that kills their children, racism and the genocide of black and indigenous peoples. They defend their autonomy over their bodies, demand a life without violence and are at the forefront of struggles in communities defending their territories, their culture, their ways of life. It is an endless list because the attacks are diverse, and all of them face resistance and collective-strength building.
Women are also part of agroecological production, solidarity economy, solidarity actions, meal centers; they aid those who suffer violence, socialize care, produce counter-hegemonic communication, promote the recovery of cultural and health practices. It is another endless list that makes us state that women are central for sustaining life.
All this resistance coexists with the construction of everyday responses to support life. By resisting, we point out the necessary transformations to build a society that guarantees well-being, with equality, freedom, democracy, centered on the construction people's rights. This is not just a reality in Brazil or in the Americas – it is worldwide.
During the pandemic, inequalities were evidenced, as were the attacks on life, which were intensified by conservative sectors of society. Women have been and are on the front lines of the fight against the pandemic and represent the majority of health workers and workers in various service sectors, providing domestic work and care in homes and communities.
At the same time, women were most impacted by unemployment. Since the beginning of the pandemic, service sectors that are mostly occupied by women workers have experienced a decrease in jobs, including the domestic work sector.
Data from the second quarter of 2021 from the Continuous National Household Sample Survey (Pnad) from the Brazilian Institute of Geography and Statistics (IBGE) show that women experience a higher level of unemployment, reaching 17.1%, while unemployment among men reaches 11.7%. This situation is added to the fact that women hold the most precarious jobs. It is part of their life to look for jobs that they can reconcile with housework and care. The fact is that women faced more difficulties in guaranteeing their living in a scenario of high inflation, in particular regarding the price of food.
Once again, women used their bodies to cushion the impacts of the crisis, experiencing stress, tension and mental illness in a precarious life dynamic – a dynamic where you work to live and you live to work. And the patriarchal response? More violence, more femicide, more imposition of the market on our lives and our bodies.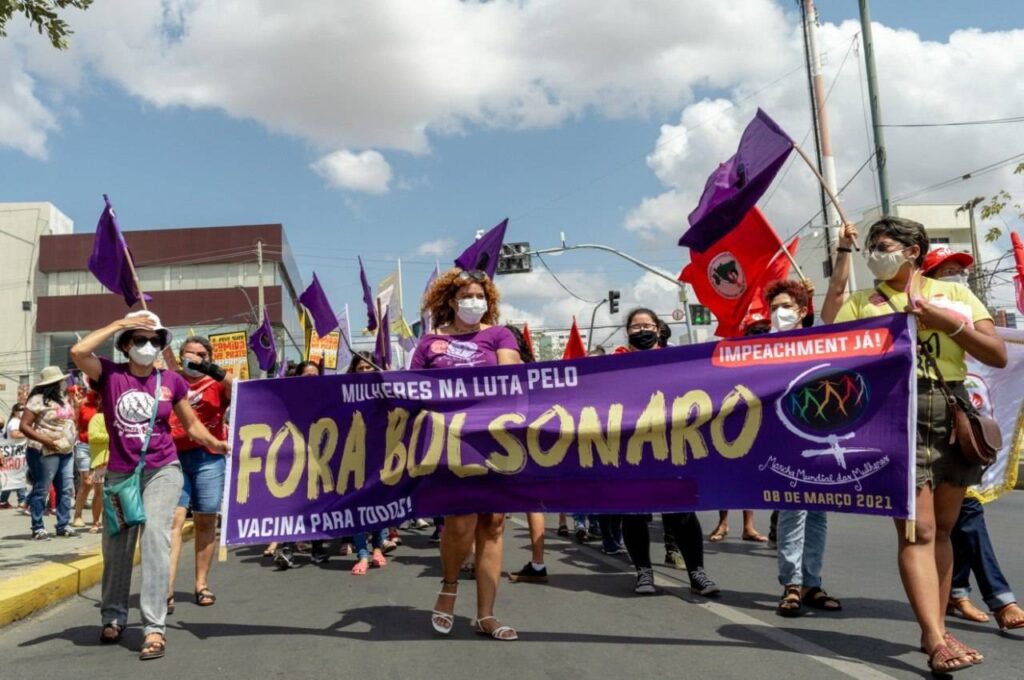 For a new year of anti-systemic struggles
If we want to understand the condition and dynamics that women experience in society, we need to have a systemic outlook, not just centered on "topics", "issues" or even women's rights. Only then will we be able to set the necessary frameworks for the structural transformations we need.
Our challenge for the next period is to radicalize the struggles that we have been building from a perspective of plural subjects and resistance to the current model. We want to move forward in dismantling this model based on injustice and exploitation, and build a new model that puts the sustainability of life at the center.
We are anchored in the knowledge accumulated by peoples who have been resisting and building collective political strength. In Brazil, this trajectory was expressed in the resistance to the neoliberal, conservative and authoritarian reaction supported by sectors of the market, the church and the army.
The Out with Bolsonaro Movement articulates a broad political front and converges the experiences of many years of joint struggle involving social movements, left-wing parties and various civil society organizations. The campaign collectively drafted an impeachment proposal against Jair Bolsonaro and proposed a program of emergency measures to face the crisis, demanding emergency aid, vaccination, taxing high incomes, among other topics. At the same time, it organized a large solidarity campaign, collecting food and hygiene products, educational actions on the pandemic and meal centers for the distribution of food. The dimension of the solidarity campaign was not only emergency aid, but also as the core value of our proposals for another model of society.
Over this trajectory, we have accumulated an anti-systemic view that must be furthered to define common guidelines for a popular and democratic project for Brazil. This project needs to incorporate the desires of the working class and the demands of the anti-racist, feminist, ecological, sexual and gender diversity struggles. We march knowing that we are not alone and that our internationalist view feeds our anti-colonial and anti-imperialist position and our socialist, democratic and libertarian ideals.
In 2022, we face the challenge of continuing in our daily struggle for answers to the concrete needs of our people: food, land, water, public services, the right to exist without violence. These struggles are part of the dispute for the model of society that we want. We cannot end poverty without ending exploitation. To have a life without violence and persecution, we need democracy, the people's power, libertarian values. These struggles are not separate; they are always articulated and must be radicalized.
Thus, our priority will be mobilization, organization in every part of this country to echo our voices all together, in harmony and in a single tune. We are internationalists and we believe in the strength of our common struggle. The articulation of our struggles at a global level is paramount to transform our lives.
We, from the World March of Women, will echo our voices because "we resist to live, we march to transform!" We want to mobilize great masses on March 8, International Women's Day of Struggle. That is the meaning of this date: to mark articulated and simultaneous fights all over the world. We hope that this year March 8 will mark our progress to defeat neoliberalism. May this mobilization grow and become an unavoidable process of change.
---
[1] Lawfare is a term for the manipulation of Law and laws as a strategy to go against opponents.
_______
Nalu Faria is part of the International Committee of the World March of Women representing the Americas. This text is adapted from the original text published on the Sempreviva Column of the Brasil de Fato newspaper.
Edited and proofread by Helena Zelic
Translated from Portuguese by Carolina Kuhn Facchin